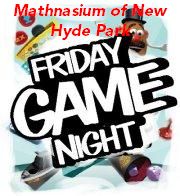 Friday Night Games
Friday November 22nd
6:30PM - 7:30PM
Our popular "Friday Night Games" is back.
We will be playing Board Games such as:
Blokus, Connect 4, Sequence, Quirkle, Mancala, Shut The Box
And Card Games like:
Blink, UNO, 24, SET, FIVE CROWNS
This is a Free Event and you don't need to be enrolled to attend. It is open to all!
It is for 1st grade through 8th Grade. Snacks will be served and fun will be had by all. Current students should bring your friends
(you will get extra stamps!).
Space is limited! Please register early!
REGISTER NOW!